Summer Week 2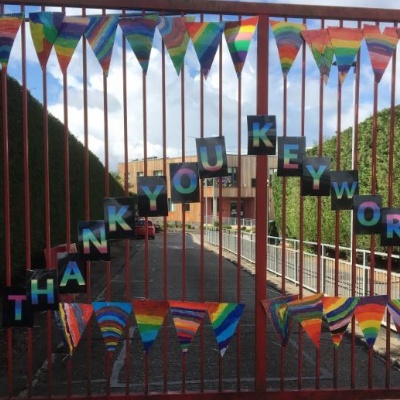 End of summer week 2 message from the Headteacher
Dear Parents & Children of Vaughan,
We have completed the second week of the Summer Term. It has been lovely to see all the work coming in to the Class mail addresses.
The featured photograph for this week is the artwork on our school gates which was completed yesterday. We hope that it is a striking message to the community that we are all thinking of everyone who is keeping the nation going during this difficult time.
Hopefully, next week we may have a little more guidance on when school may be reopening and have some information to share with you about how this will look.
For now, please continue with the Home Learning resources as best as you can. Please look out for weekly messages on the website from your child's year group teachers.
Make sure that you are trying some of the P.E challenges in the Learning Resources area and have a look out for some of the work sent in this week, on the website Photo Gallery.
Have a lovely weekend.
Stay safe and look after each other.
Mrs Jones
Headteacher