Planning for September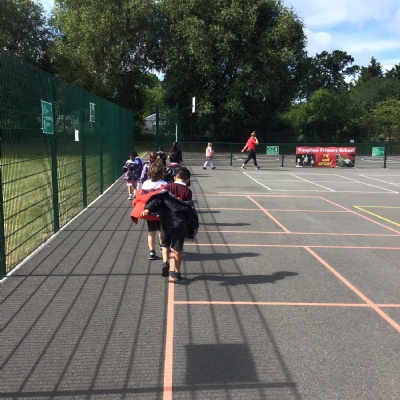 A weekly roundup message from the Headteacher
Dear Parents & Children of Vaughan,
We hope that all our families continue to be safe and well.
The government have announced some of the detail regarding pupils' return to school in September. I will be writing to parents shortly regarding arrangements for the start of term.​ There may be many communications coming out from the school over the next two weeks, so please look out for general and specific year group information for your child.
This week's photograph is​ of some of the pupils in Year 1 taking part in their Daily Mile challenge. We hope that all of you at home are still able to take part in the morning P.E challenges and even the Daily Mile!
Year 6 had a lovely cinema afternoon yesterday as part of the events we have planned for them on their last few weeks at Vaughan.
There is now a specific Wellbeing tab that has been added onto the website with a range of resources to support parents and pupils at home during upcoming weeks before return to school. The school have also received a parents guide to Black Lives Matters from the Educational Psychology Service. As a school who advocates the inclusion, respect and tolerance for all, this document may support questions or discussions that may be raised following many initiatives that have come to the fore in the public arena. The school will continue to celebrate its amazing diversity and promote positive images and curriculum sources for all our pupils to aspire to. We must continuously look to do more.
The video messages from your child's class teacher have been uploaded for you so hopefully everyone has had a chance to enjoy these.
Have a great weekend, and look out for some of the work sent in this week by the pupils, on the website Photo Gallery.
Stay safe and look after each other. ​
Mrs Jones
Headteacher