Headteacher's Update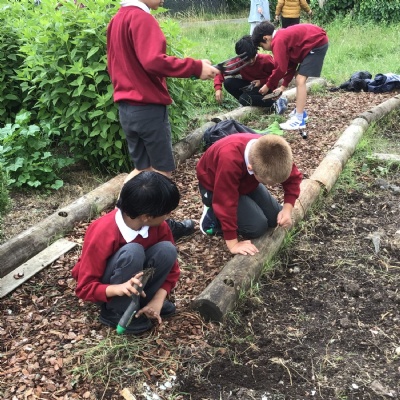 Headteacher's update from the week ending 10th July.
Dear Parents & Children of Vaughan,
We hope that all our families continue to be safe and well.
The school will be sending out a letter to you next week outlining the arrangements for your child's return to school in September. Please read this letter carefully as there will be a number of changes to how the Autumn Term will look. However, I am just happy that all the pupils will finally be returning to school.
This week's photograph is​ of some of the pupils at the allotment. All groups were timetabled in for a visit this week and the school allotment plot is looking great!
Year 6 had a rounders afternoon today with their staff and I am happy to report that good sportsmanship was seen between all competitors!
We have received some wonderful news this morning. Mrs Varsani gave birth to a beautiful baby boy this morning, so I'm sure the school community will join in with the congratulations that she has already been receiving from all the members of staff! ​She wasn't due yet but we are happy to report that both mother and baby are doing well.
Please be reminded that parents will need to collect reports next Thursday and a letter has been sent out so that parents understand the organisation of how this will take place. Again, please read this communication carefully and adhere to the specific timings indicated.
Have a great weekend, and look out for some of the work sent in this week by the pupils, on the website Photo Gallery.
Stay safe and look after each other. ​
Mrs Jones
Headteacher​​​​​​​​