Nursery Places Still Available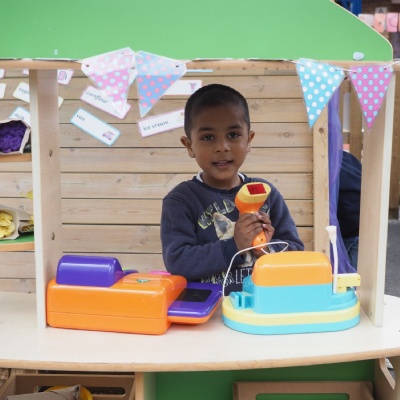 Are you or someone you know looking for a Nursery place for this academic year (September 2020 to July 2021)?
All three and four year olds are entitled to access up to 15 hours a week of free part-time early education. Children who go to a local authority nursery, primary school or academy automatically have the education costs paid for by the local education authority.
Our Early Years Provision has been judged by Ofsted as 'Good' and when Ofsted visited in January 2019, they were able to see what happy children we have and how excited they are by learning.
"Children in Nursery are typically engrossed in their learning. They benefit from a supportive and stimulating environment that engages them well."
Children in Nursery follow the Early Years Foundation Stage curriculum and are taught using a topic based approach. Learning is done through play, led by the teacher, with opportunities to apply knowledge through child initiated learning. We have a fantastic learning environment which enables children to be independent and take risks. Our outdoor area has been designed with the needs of the Nursery and Reception children in mind and it enables us to provide learning opportunities that are adapted to a wide range of learning styles.
"There is a good balance between children making choices about their learning and staff-led activities. The outdoor provision is used well to support the different areas of learning. Both Nursery and Reception children have access to the engaging outdoor provision, which provides children with a wide range of experiences."
We are pleased to say that we have a limited number of places still available for 2020/21, therefore if you have not yet applied, it is not too late.
Feel free to give us a call on 0208 427 7222 or email admissions@vaughan.harrow.sch.uk for further information and to request an application form.
We look forward to welcoming you to our nursery very soon.