Library Renovation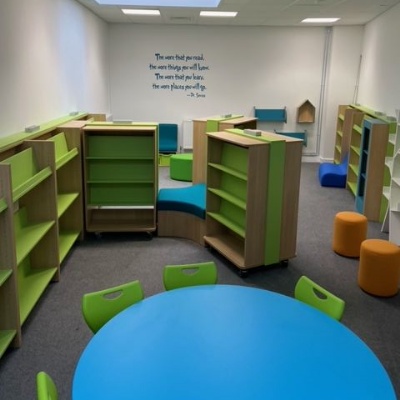 Fostering a love of reading
At Vaughan we pride ourselves on fostering a love for reading for pleasure amongst our pupils. During these unprecedented times the need to escape into an imaginary world and immerse ourselves in a fictional or non-fictional world has become ever more important.
With thanks to a generous donation from Harrow School's Long Ducker fundraising activities, and some additional grant funding the school has secured, we have finally been in a position to realise the dream of refurbishing our school library space.
We wanted to make our library an inviting and exciting place for our whole school community to enjoy. The whole idea was to create different zones within the library to peak the interests of our pupils and encourage them to sit and enjoy a reading book purely for pleasure which we hope will continue to engage and inspire our pupils.
Works have slowly been underway for the last two weeks, first with the preparation and redecoration, ready for the fitters to undertake the installation this week.
Our next steps will be to begin to start getting books populated on the shelves and we will shortly be arranging a launch event to formally re-open this wonderful new onsite library.