Digital Transformation
Transforming the schools digital technology provision to equip students for the world of work tomorrow.
Following Vaughan's enrolment in a government funded project to accelerate its digital transformation strategy, participating in the Microsoft Accelerate and Demonstrate programme, we have been working at pace to accelerate the digital transformation process within the school.
In a project led by Mrs Beaven, the School Business Leader, we have made significant investment in transforming the schools technology provision to replace legacy equipment and systems as we transition to the cloud. In February, with the support of the schools managed service provider, Concero, we have purchased and implemented the roll-out of:
60 x Staff Surface Laptop Go i5 devices
90 x Student Surface Laptop SE devices
77 x Microsoft 365 A5 Licences
The benefits behind the school of moving to the cloud, include achieving economies by saving money on reducing licencing costs and using cloud based devices which are more cost-effective, as well as saving money by eliminating the need for onsite server replacement and the associated energy bills required to run and cool on-site servers.
That's not to mention the efficiencies and increasing the effectiveness of what we can do by giving staff the flexibility to access services from wherever they are, supporting collaboration by helping staff to easily share and co-author documents, files, lesson content and plans – reducing duplication of effort and making it easier for teachers and pupils to research, analyse and use new curriculum resources. It also enables the school to become far more agile and to ensure continuity of education provision, whether that be through a lockdown imposed by a pandemic or as a result of the schools business continuity plan being invoked.
As part of this very exciting project, Vaughan Primary School has become the first school in the United Kingdom to buy a Surface SE devices at volume and deploy them for use by students in a complete Microsoft 365 cloud environment. In addition, Vaughan Primary has become the first school to move SIMS, our management information system, into Microsoft Azure Virtual Desktop utilising only Azure Active Directory.
As a result of the achievements, there is a tremendous amount of interest in the project and as such there are case studies being developed, so it can be used as a blueprint for other schools up and down the county.
Students have been getting to grips with the new technology over recent weeks and pictured you can see some of our Year 6 students undertaking SATs revision using the new devices.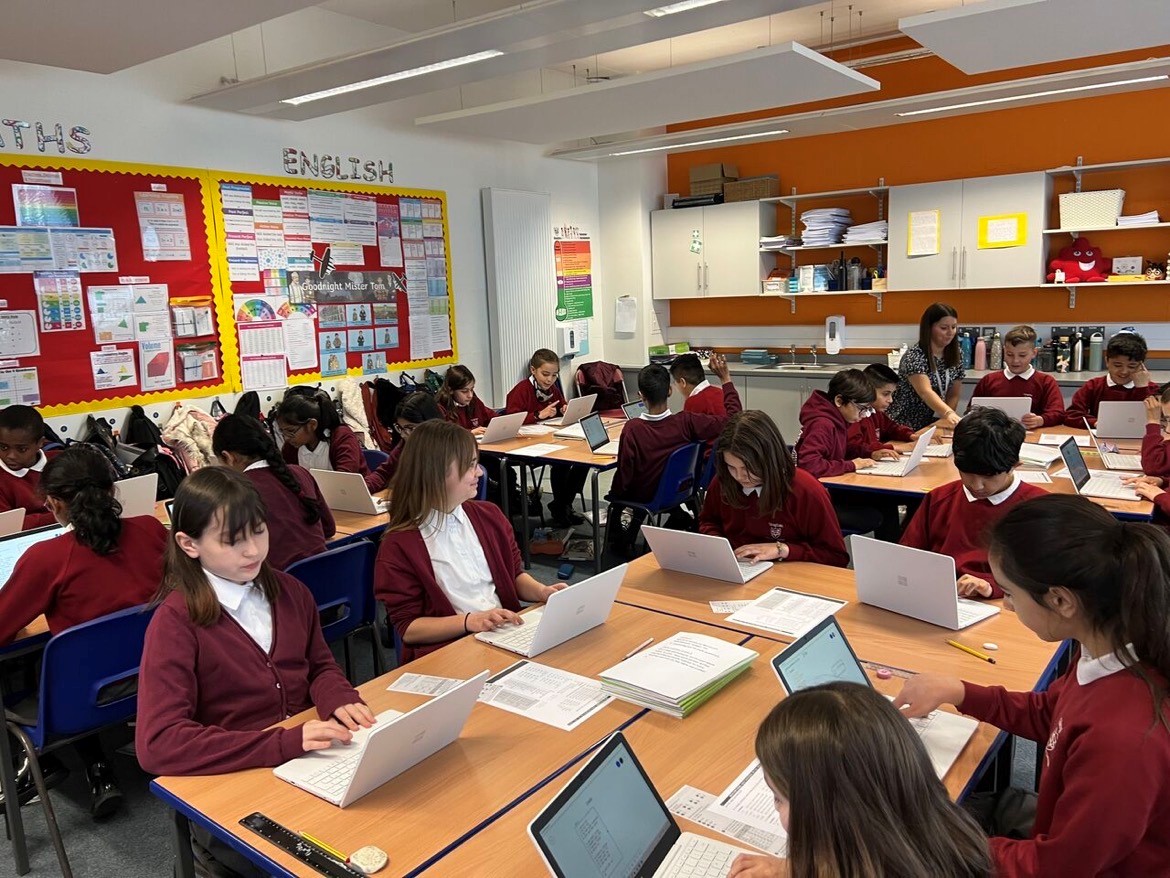 New technologies such as artificial intelligence and increased automation, as well as major demographic and environmental changes are expected to have far reaching and long lasting effects on the jobs market and it is this transformation is going to be one of the major strategic challenges faced by schools in the next few decades.
Developing digital skills in students is of increasing importance as we prepare them for the world of work of tomorrow.