Free School Meals for Primary Children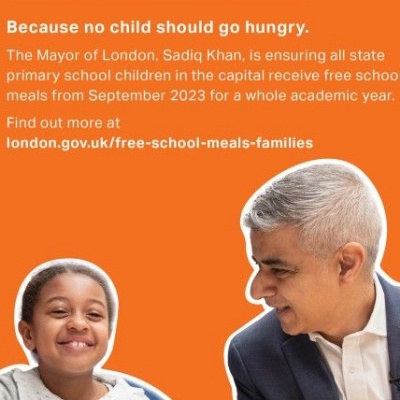 All state school primary aged children will receive free school meals from September 2023.
The Mayor of London is providing unprecedented emergency funding to expand London's free school meals offer ensure primary school children who attend state schools in London will receive free school meals for the full academic year, starting September 2023. The funding will help up to 270,000 primary school children in London access free school meals and could save families upwards of £440 across the year. 
The Mayor knows families are really struggling with the cost-of-living crisis right now and so has taken the decision to provide funding to expand on the Government's limited existing Free School Meals offer.
 Your child will receive their free school meal automatically, but it's still really important to complete the Government's registration form in case your child is eligible for extra funding for their school from the Government, worth £1,300 per year. That's extra money to
spend on enrichment activities, teacher development, and targeted support for the children
that need it most. Depending on how schemes operate in your borough, it may also entitle you to other benefits like food vouchers during the holidays.
The registration process is straightforward and confidential. Please complete the online form below to register for free school meals Apply for free school meals – London Borough of Harrow