Holiday Clubs
Skipz Productions
This summer, Vaughan Primary is playing host to the Harrow Holiday Activity and Food Programme, hosted by Skipz Productions in the week commencing the 26th July and the 2nd August. This programme is free for all free school meal eligible pupils aged 6 - 11 years, although a paid provision is available for non-eligible children.
To register for a place, please complete the online registration form which can be found: https://www.skipzproductions.org/skipzhafharrow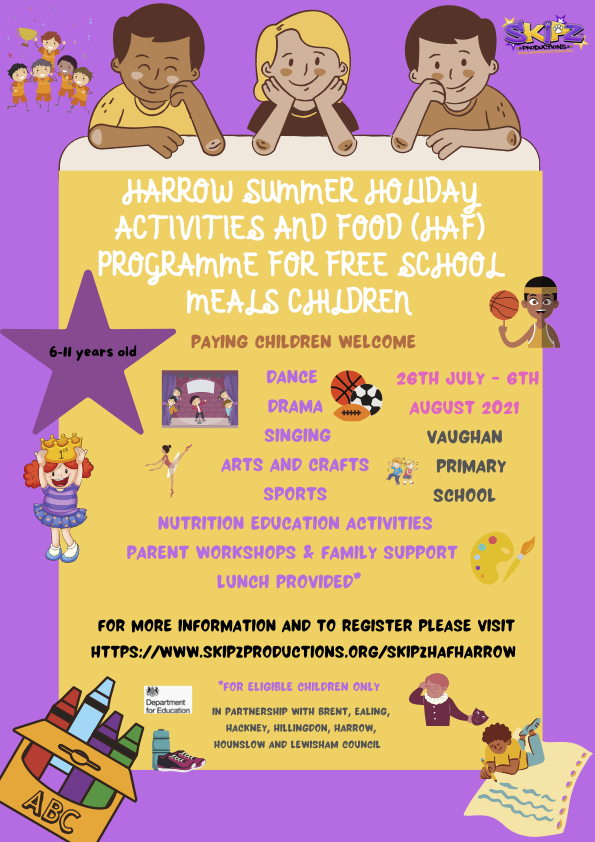 STOMP Dance & Sports
Vaughan Primary is proud to be home to STOMP Dance & Sports, who provide much needed childcare solutions during the school holidays. As part of Apex360 franchise, they offer innovative sports, dance and physical activity programmes developing children's physical literacy skills.
Book a place online at: http://apex360.co.uk/camps/
For more information contact Louise Graham by telephone: 0207 101 3732 or by email: louise.graham@apexdance.co.uk.
Please see the flyer below for details of the next STOMP holiday club.