Letters Home
Please click on the links below to access recent letters sent to parents and carers.
Year 5 Swimming Lessons - January 2022
This letter was emailed to Year 5 parents on Thursday 18th November and is available to view in the link below.
Dear Parents / Carers
YEAR 5 SWIMMING LESSONS – JANUARY 2022
Swimming lessons will take place in the Spring Term for Year 5 pupils. These lessons are part of the National Curriculum and are not optional.
Your child will have one term of lessons.
There will be a virtual zoom meeting for parents on Wednesday 1st December 2021 at
5.00 pm which will give further information on expectations and the necessary protocols that will be required in order for your child to participate.
Details for the meeting are outlined in the email sent to Year 5 parents.
We look forward to seeing you at the meeting.
Yours sincerely
MRS KAREN JONES
Headteacher
Road Safety Competition
This letter was emailed to Reception to Year 6 parents on Thursday 11th November and is available to view in the link below.
Dear Parents
ROAD SAFETY COMPETITION
As you may be aware, next week, week beginning Monday 15th November 2021 is Road Safety Week. We want to encourage safe travel and road safety awareness for all pupils. We will be looking at road safety in assembles with a particular emphasis on how to cross the road safely.
There is a competition to design a poster about staying safe when crossing the road. The poster must include advice on how to stay safe when crossing the road, including useful drawings and an eye catching design.
There will be one winning poster per year group, which will be displayed around the school.
The deadline for entries is Friday 26th November. Please complete your entry on an A4 piece of plain paper and give to your child's teacher. Please make sure the entry has your child's name and class on it. If your child needs a piece of paper for this, they can ask their class teacher.
Thank you for your continued support in ensuring children are aware of road safety.
Yours sincerely
Mrs Ladak Mrs Willis
Travel Plan Coordinator Travel Plan Coordinator
Extra Bank Holiday - Friday 11th February 2022
This letter was emailed to all parents (Nursery to Year 6) on Wednesday 10th November and is available to view in the link below.
Dear Parents / Carers
EXTRA BANK HOLIDAY – FRIDAY 11th FEBRUARY 2022
As you may know, to commemorate the Queen's Platinum Jubilee, there is an additional bank holiday on Friday 3 June 2022.
​This date falls within the half term break which begins on Monday 30th May 2022 so schools have been asked to allocate an alternative day off within term time instead.
Therefore, at the beginning of the half term break in February, the school will be closed for one extra day on Friday 11th February. The Spring term will commence on Monday 21st February.
Yours sincerely
MRS KAREN JONES
Headteacher
Parent Reminder regarding illness
This letter was emailed to all parents (Nursery to Year 6) on Tuesday 9th November and is available to view in the link below.
Dear Parents / Carers
I hope everyone remains safe and well.
This update is to inform parents of the expectations and continued risks to the school community for not adhering to protocols around COVID 19 symptoms and whole school community wellbeing. As we continue to strive for a normal return to school life, the vast majority of parents are continuing to support the efforts of the school in keeping everyone safe.
However, the reason for this communication is not to advise parents of what is already known, but to voice my disappointment as the Headteacher, that a small minority of parents are choosing to continue to put the school community at risk by sending their children in to school, unwell, and at its worst, with symptoms of COVID-19, particularly as the school's guidance has been in place for over a year.
There are also a minority of parents that believe that being verbally abusive to staff when called to collect symptomatic pupils or retrieve pupils from school when it is discovered that they have had symptoms from the previous day is acceptable. This behaviour will not be tolerated. Parents run the risk of being banned from school premises or the school contacting the police if they are going to come on to premises and behave abusively. It cannot happen in other public domains of life and will not be happening at Vaughan Primary School. COVID-19 has not gone away and I still need to be responsible for the vast numbers of individuals on this site. This means pupils, parents AND my staff.
If your child exhibits any symptoms related to COVID-19 or is unwell, do not send them to school. COVID-19 symptoms are also extended to headaches, vomiting and diarrhoea. If parents are not sure what to do then contact the school and ask.
I understand the inconvenience for parents in taking time away from other responsibilities to collect children or organise PCR tests but unfortunately this is a way of life for all of us now and we do continue to have cases within the school community.
I will not stand by and watch the school community and more specifically, staff, be put at risk by the actions of a few individuals. I hope the content in this communication clarifies the school's position. As disappointing as it is, it is not something that I am prepared to ignore, as this school does not want to experience the scenes that many parents were aware of in the Autumn Term last year. The local picture at present is not a positive one.
We all need to continue remaining vigilant and adhere to Public Health guidance and directives so that we can all remain well for the upcoming Christmas break.
Thank you for your continued support of the school and staff.
Yours sincerely
MRS KAREN JONES
Headteacher
Evidence Me - Reception and Nursery letter
This letter was emailed to Nursery and Reception parents on Friday 8th October and is available to view in the link below.
Dear Parents / Carers
EVIDENCE ME – RECEPTION AND NURSERY
Thank you to all parents who have returned the 2Simple permission forms.
In both Nursery and Reception, we use a system called 'Evidence Me' from 2Simple which will allows us to share what your child is doing in school.
The 'Parent Share' feature in Evidence Me enables you to view your child's observations (complete with photos and/or videos) via the app or web suite, showing you what your child has been learning and the new skills they are developing.
You can send us your comments and feedback by simply adding them to the observations via the app or web suite. This will help our staff to support your child even more effectively in the classroom.
You can also take an active role in contributing to your child's observation portfolio by uploading your own observations, simply add these to the app or web suite.
You will receive an email in the next few days from donotreply@evidence.me asking you to confirm that you would like to participate. Make sure you check your spam/junk inbox as sometimes emails can get lost in there.
Participation is optional, but we really recommend getting involved.
We look forward to sharing our observation with you.
Yours sincerely
MRS KAREN JONES
Headteacher
Numbots letter for Reception and Year 1 parents
This letter was emailed to Reception and Year 1 parents on Thursday 7th October and is available to view in the link below.
Dear Parents / Carers
NUMBOTS
NumBots is an online game available for your child. By playing little and often, children should significantly improve their recall and understanding of number bonds, and addition and subtraction facts. These are critical foundations in Maths and we hope that the use of NumBots will have a positive impact.
Children have been shown how to login and their login details are on the back of this letter. They may need some help navigating to the website and entering the details, but once they're in, they just need a quiet space to get on with the games for approximately 5 minutes.
If you have any difficulties logging in, please let your child's class teacher know so that we can look into it.
There are two play modes in NumBots that serve different purposes. The first play mode is called 'Story Mode for Understanding'. Story mode is set out as a series of stages and Level One is unlocked for your child. To unlock the next level, children need to earn two stars. The second play mode is called 'Challenge Mode for Recall' and has an emphasis on rapid responses to essential facts and simple calculations, against the clock. Challenge mode is unlocked once children reach a certain level on Story Mode. There are 20 challenge levels and only the first one is unlocked upon entering this mode. To unlock the next challenge, players must correctly answer 12 questions in a minute.
Please encourage your child to regularly use and enjoy this programme so that they can develop mathematically and track their progress as they do.
Yours sincerely
MRS KAREN JONES
Headteacher
Pupil Testing for PCR
Dear Parents/Carers
UPDATE ON PUPIL TESTING
We have been informed that the government website for booking a Covid PCR test has changed recently, so we would like to update parents regarding this. If your child's 'symptoms' being displayed do not fall under the classic symptoms advertised on Public Health websites and NHS 119 helplines, the school has been in contact with Harrow Public Health and continues to share with parents the following information:
The school will continue to send pupils home with symptoms identified as potential indicators to infection which were experienced in both the Autumn and Spring Terms – e.g., headache, aches and pains, vomiting or diarrhoea, along with high temperature, cough or loss of taste or smell.
Parents will need to book onto the COVID test site itself: https://www.gov.uk/get-coronavirus-test , rather than going through NHS 119.
When booking online, parents will need to complete the sections below as shown: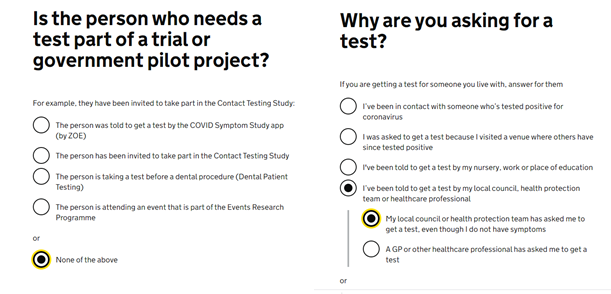 When parents take their child to the test site they need to say that they have been told by their school to undertake a test as advised by the Public Health Consultant at Harrow Council. This is particularly the case if classic COVID symptoms of: a cough, high temperature or loss of smell or taste, are not experienced by the child.
We hope that this information proves helpful and continues to support and protect the school community. Thanking you in advance for your cooperation.
Yours sincerely
MRS KAREN JONES
Headteacher
Smartwatches in School
This letter was emailed to parents of children in Reception to Year 6 on Friday 10th September and is available to view in a link below.
Dear Parents / Carers
SMARTWATCHES IN SCHOOL
It has come to our attention that a number of pupils are wearing smartwatches to school and accessing their phone devices through these.
It is against school policy to have access to phones or any devices linked to them during the school day.
This has now become an issue in the playground and during learning time in class and so we are advising that any child who is wearing a smartwatch and is found to be accessing any mobile devices will have their smartwatch confiscated and returned to their parent as per the school's Behaviour Policy.
Please note that these devices are worn at owners risk and the school cannot be held responsible for any loss that occurs while your child is on the school grounds.
We hope you will understand and that parents can work with the school regarding this.
Yours sincerely
MRS KAREN JONES
Headteacher